afe At Last, Inc., a place where abused, stray and unwanted cats can call home!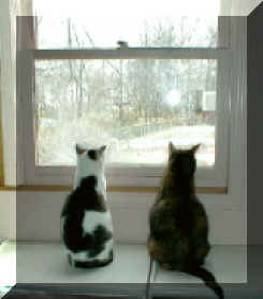 My name is Bonnie Jo Yuspa and I am the Founder and President of Safe At Last, Inc., a 501(c)3 non-profit organization set up for the rescue and care of abused, stray and unwanted cats. As the name implies, once a cat has reached Safe At Last, Inc., it truly is safe at last!
Many of the cats that have come to us are now permanent residents because previous abuse has caused them to mistrust people. We also have several cats that have special dietary and medical needs. If suitable homes can be found for these cats, they are carefully placed. Unfortunately, there are not enough people willing to adopt cats with special needs. Therefore, it is imperative that we have enough funding for the continuing care of these cats. Here at Safe At Last, Inc. we are a
NO-KILL
operation. Any cat that comes to us, no matter how old, battered or injured has its medical needs addressed - no matter what the cost. If a cat has the slightest chance at a healthy, happy life, that chance is always given here at Safe At Last, Inc.
Just like people, animals need love too. If you are considering adding a pet to your family, please visit our cat adoption page. Although Safe At Last, Inc. is a cat rescue, occasionally we have other animals that are in need of loving homes as well. Safe At Last, Inc. promotes kindness to all living creatures. Before you adopt, please take the time to learn about the pet you choose. Above all, remember that a pet is a lifetime commitment so be sure you want to take on the responsibility!

FEEDING THE STRAYS
Each day Safe At Last, Inc. receives frantic cries for help from well meaning people who feed the strays. Safe At Last, Inc. has provided sanctuary for dozens of cats rescued from the clutches of animal control officers or worse yet, poison laced food put out by irate business owners. This happens because well meaning business employees and rental property residents are feeding one or two stray cats. Before you know it, there are dozens of stray cats and kittens hanging around dumpsters, apartment complexes and braving the elements by crawling inside cars on every used car lot in the city. The owners of these establishments do not run cat shelters. These people run profit making businesses and consider the cats a loss for their business. Eventually, these business owners will call someone to collect and destroy the stray cats. So before you feed that poor homeless, hungry cat that greets you outside the office each morning, consider what you can really do to help improve his quality of life. Call your local Humane Society, S.P.C.A., or Cat Shelter and take advantage of their spay and neuter programs. Many of these programs are low cost and in many cases offered free of charge. Then, if you wish to continue feeding one or two stray cats, you will not be inviting them to breed and overpopulate around places of business where they will most certainly end up being destroyed.
TAKE NOTE:
Visits to Safe At Last are by appointment only. Please send inquiry by email to set up an appointment. It is important to realize that Safe At Last is funded by private donation only and that it is a very selfish act to seek out directions to leave animals on the doorstep. For those of you who have done this, you have placed a huge financial burden on our sanctuary and jeopardized the comfort and security of the animals that already reside here. Safe At Last can no longer accept animals that are dumped here in this fashion. We are simply out of space and the means to care for unlimited numbers of strays. Animals that are not approved for entry into our sanctuary will be turned over to the regular animal shelters.



Please check out the link below for your pet's needs. For Quality products at great prices shop Chewy!
www.chewy.com/rp/1461


Questions about cats and cat related issues should be directed to: e-mail-safeatlast@comcast.net